Moving from New York to Florida
New Yorkers fleeing to Florida!
Palm Coast real estate broker is happy to help you do the same.
We can't wait to help you find the perfect house for you and your family

Luxury real estate for sale in Palm Coast, Florida
Waterfront houses for sale in Palm Coast City
Homes for sale in 55+ communities in Palm Coast
Select a lot in Palm Coast with our expert advice
Get detailed listing info
Live video home inspection option is available
Live video walk through the house is available
Over ten years of experience in Palm Coast real estate market
CALL NOW (386) 793-1661




Residents of high-tax states such as New York are moving to Florida in record breaking numbers. According to recent reports, close to a thousand migrants from Northern states are moving to Florida every single day. Why are so many people leave New York to move to Florida? Reasons are many and the pandemic, anti-police protests as well as high State taxes only increased the need for businesses and people to pick up their belongings and move to a more business-friendly and family-friendly Florida. Palm Coast City is one of the most desirable areas where people are moving not only from New York, but also from neighboring states including New Jersey, Connecticut, Illinois and Massachusetts.

Moving to Palm Coast from New York can be a life changing experience and we are here to help. Palm Coast is a well-cared for city situated in North East part of Florida, conveniently located minutes away from the Atlantic Ocean. The warm, pleasant weather in Palm Coast is a nice change from unpredictable and at times unstable weather in New York, making this location so attractive to New Yorkers who enjoy the clean air and warm ocean breeze throughout the year. The beaches in Palm Coast are not nearly as crowded as in New York and the sand is pristine clean - the difference is striking especially to those who visit Palm Coast for the first time. Visiting local parks in Palm Coast is especially inspiring for people who enjoy spending time with their children, friends and family in a lovely environment, surrounded by beautiful trees and endless trails to explore.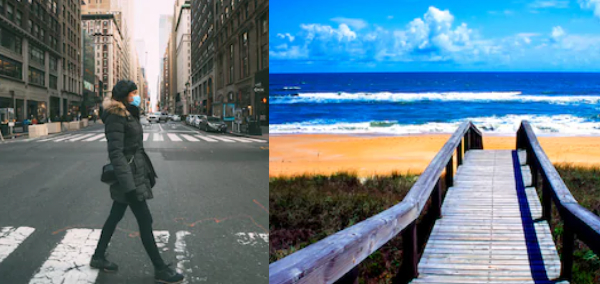 Why do so many New Yorkers move to Florida? Palm Coast is a family-friendly Florida city where kids can get education in top-rated schools. Unlike in New York, parents do not have to worry whether their child will get into a good school - there's plenty of space for every child to attend the school of their choice in Palm Coast. Children have endless activities to participate in, including dancing, martial arts, art studios and so much more. Pandemic made it difficult for children to attend schools and socialize with friends in New York. Harsh New York winter makes it difficult to even come outside most days of the cold season. And for those who live in high-rise buildings that require a use of elevator it may be unsafe to come outside without risking your and your family's health as you stand with several strangers in a packed elevator. In Palm Coast most people live in private houses with a spacious backyard and a nice screened swimming pool area where the kids can get fresh air during the day without worrying about coming down the elevator with many strangers that may or may not choose to wear a mask.

Unlike in New York, local businesses are not nearly as affected by the pandemic and there aren't many business closures in Florida in comparison to New York, which makes Palm Coast an attractive place for starting a business or for finding a new job. Whether you are looking to open a new restaurant in Palm Coast or seeking a job as a nurse or as a doctor in one of the local hospitals - there are many opportunities here for those who are ready for a real change in life - a change for the better.

And what about retirees in New York who waited for the golden years to move to a warm and healthy climate? Right now is the time to consider moving to Palm Coast, Florida. Palm Coast is welcoming retirees from New York. Whether you are looking to move into a retirement community or looking to buy a charming home on the lake, next to the golf course - we can help. With so many New Yorkers fleeing to Florida during the pandemic, seniors are especially vulnerable. Moving to a different state can seem overwhelming and even impossible but that is not the case at all. Give us a call and we can help you find the right home in Palm Coast that meets all your requirements and you don't even have to be physically present during the home inspection - video call can be set up and you can speak to the house inspector and ask any questions during the video walk-through the house.

Many investors are seizing the opportunity to buy real estate in Florida now, when interest rates are still low and house prices are still reasonable. If you are looking for an investment opportunity, consider Palm Coast. Give us a call today and learn about investment opportunities that may not be available tomorrow. Palm Coast City residents pay no state income or estate tax. In addition, Floridians get homestead exemptions of up to $50,000 on primary residences.

For people who worry about hurricane season that the state of Florida is known for, Palm Coast is conveniently located away from the path of hurricanes, making this city one of the safest in Florida during the hurricane season.

Florida is also a much more friendly state for home owners than New York. There is no state income tax, property taxes and home prices are significantly lower in Palm Coast than in New York, even when it comes to luxury real estate. Despite many obvious advantages to moving to Florida from NY, sometimes it is a good idea to rent a home before moving permanently. Renting a house in Palm Coast will give you an opportunity to experience what living in Palm Coast would be like if you bought a home here. We can help you find a house to rent in Palm Coast area of your choice. Renting a house in Palm Coast will likely be cheaper than renting an apartment in New York City. And you will never have to fight for a parking spot again. Even if you are not very familiar with the City of Palm Coast, let us provide you with the information that will help you to make the right decision.


Call to get more information.
(386) 793-1661



Moving from NY to FL
While there are many things to consider when moving from New York to Florida, we can help you with making the first step towards finding a better life in a new home. We work tirelessly to find a house or a lot that has all the features that you are looking for. Location is yet another important ingredient of a successful real estate purchase and we have the knowledge of Palm Coast that will serve to your advantage. Give us a call today and learn about exciting real estate opportunities waiting for you in Palm Coast City, Florida!